---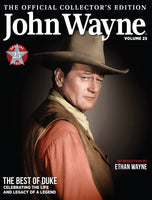 Celebrate the inspiring life of John Wayne with Volume 25 of the Official John Wayne Collector's Edition. In 100 pages of incredible photographs from Duke's life, you'll discover the legacy of a man who shaped American culture with his diligence and grit.
Very happy with the service I was given
Very good book
Excellent price. Lots of John Wayne info.
John Wayne: The Official Collector's Edition Volume 25— The Best of Duke
Die Magazine sind großartig.
John Wayne: The Official Collector's Edition Volume 25— The Best of Duke