---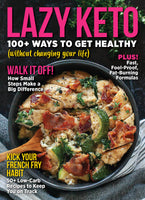 About
Everyone wants to be the best they can be: healthier, slimmer, more energetic. But it can often seem like even making your modest diet goals a reality comes at the price of your lifestyle—not to mention all your time. The good news is you don't have to go all in with a dramatic lifestyle change to find a better you when you look in the mirror. Small steps count when it comes to dieting, and in the Lazy Keto Digest we've outlined more than 100 tips and tricks to get you started. Whether you're curious about the ketogenic diet or looking for ways to make meal planning a little easier, we've included plenty of recipes you'll enjoy—as well as time-tested strategies that'll help you lose weight, fell great and keep your momentum going all year.
Product Details
Pages: 100
Format: Digest magazine
Love the recipes
Wish there were more of the keto books to order.
Delicious, simple recipes
We've been trying three recipes a week from Lazy Keto (two slow cooker and one stovetop). We have been very satisfied by each one so far. The macros seem accurate and I've lost 10 lbs in two weeks. I love that the recipes don't have lots of hard to find ingredients, too