---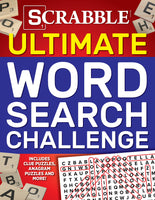 About:
This big book of word search puzzles takes word search to a whole new level with puzzles that test the talents and skills of even the best puzzler. With puzzle variations inspired by the classic game Scrabble, word searchers everywhere will discover exciting new ways to play their favorite pastime.
Product Details:
Pages: 320
Format: Paperback
Dimensions: 7" x 9"
Love anything about this book
Love the cute cover. It draw me to my first book. I'm hooked. Enjoy the beautiful pictures and games. I have bought very issue with cat puzzles. What about dogs.