---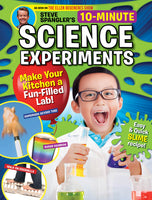 This amazing guide is filled with simple and fun science experiments that your child will love. Every experiment uses easy-to-find materials, most of which you probably already have. And the best part? Most of these can be done in 10 minutes or less!
Created by Emmy award-winning television host, bestselling author and STEM rockstar, Steve Spangler, your child will get excited about science and learning with these hands-on experiments.
Author: Steve Spangler
Pages: 100
Format: Traditional magazine
Product Dimensions: 8" x 10.5"
Steve Spangler's 10-Minute Science Experiments
Awesome as always!! With virtual/distance learnng happening, this makes it easy for the parents to have some fun with their kiddos at home.
Magic made easy!
Great book, easy to follow directions. Good for young and old. Great ideas for teaching or just spicing up a family event.