---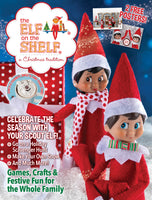 About
Celebrate the season with your Scout Elf! Filled with games and activities, The Elf on the Shelf® magazine has all the crafts and festive fun you need to celebrate the holidays with your family. Go on a scavenger hunt, make your own snow and mix up Santa's favorite sweets (and yours too)!
Product Details
Pages: 76
Format: Traditional magazine
Product Dimensions: 8" x 10.5"